Windows are an essential part of the home. They come in different shapes and sizes and serve a different purposes. Window design can be a cohesive interior part. They are a source of natural light and air in your home. 
They can add to the attractiveness of your house. With changing home infra-structure and design trends windows have come a long way from classic models to the modern minimalist ones.
The purpose over here is to brighten and enhance the interiors which have remained constant. There are many types of windows design to choose from with different window hardware. The budget, needs, and architectural style play an important role in making a choice.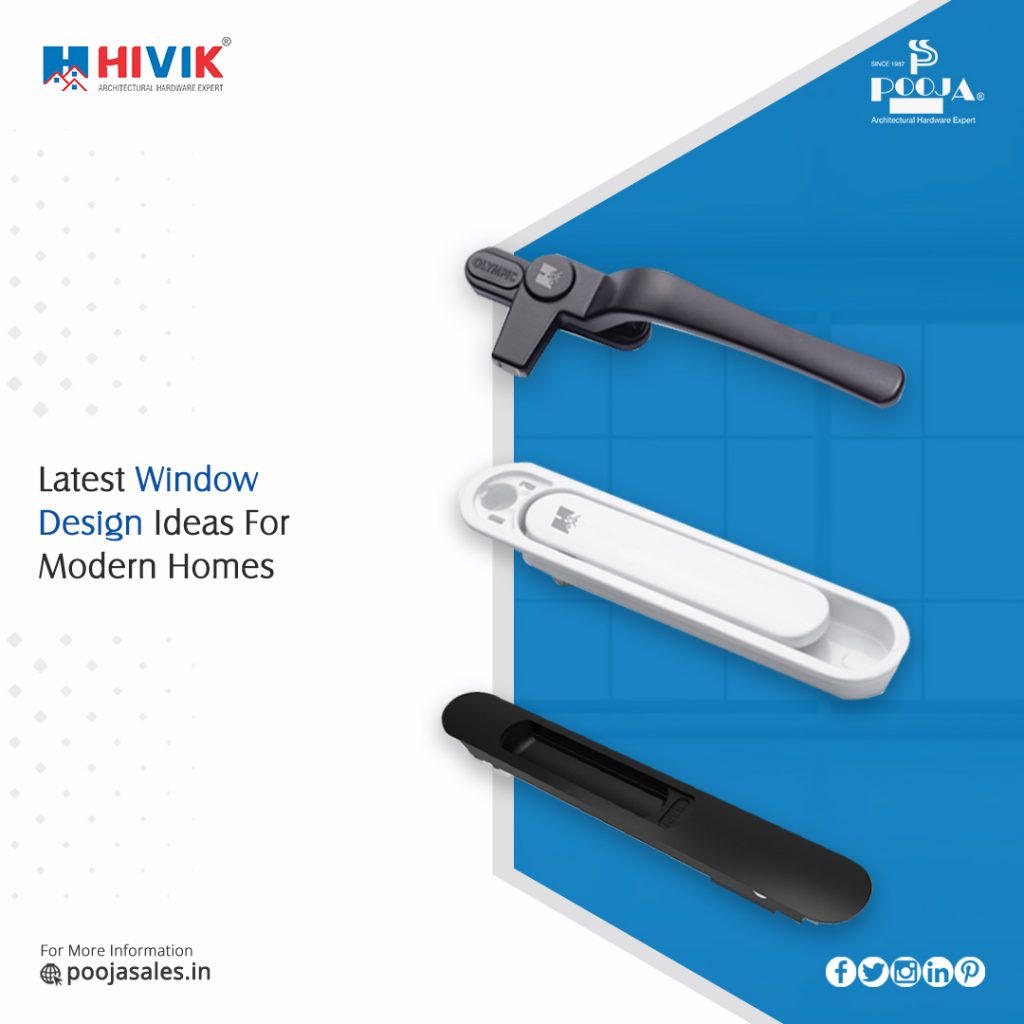 Latest Window Hardware Design Ideas For Modern Home
1) Casement Windows:  
These windows are long and wide open and operate by turning a crank. It has gained popularity over years. It is easy to clean. It provides excellent ventilation, it is customizable and ideal for modern homes in hot weather conditions. 
This window design opens inward and it can allow natural air to flow in the room. These windows have ease of operation, and less maintenance cost and are also energy efficient. These windows can be installed with double-pane fiberglass with low e-coating for UV protection.
Benefits:  It can open outward completely, and offers a better view and ventilation. These pane windows are energy efficient and highly secure. These windows are customisable and suit many styles.
Disadvantages: Windows size cannot be too large. Cannot fit with air conditioning. It cannot be used as storm windows.
2) Awning Windows: 
It is almost similar to casement windows but there are hinges on the top. They open outward and provide enough ventilation and light. It is also useful in confined spaces like bathrooms and kitchens.
Benefits: These windows are installed higher on walls which maximizes ventilation without getting affected by the rainwater. It is suitable for wet and damp climates. This window design is versatile and a perfect replacement as it can be combined with other window types.
Disadvantages: They get dirty and frequent cleaning is needed.
3) Picture Window:
If you wanted to replace the door and walls with a see-through window then a picture window is best recommended. It is used in combination with an additional window for an attractive aesthetic. The best place to install this is where the best views outside are present.
This window can bring natural light and can offer an expensive view of the surrounding without any interruption. Picture windows are stationary and cannot be installed as ventilation,
Benefits: Comes with a one-time installment cost, best for natural light and heat.
Disadvantage: It became a source of heat in summer. It does not provide ventilation. It is also not very secure.
4) Double-hung or Single Hung Window:
When practicality is needed in window hardware then this type of window is created. The major difference over here is operable sashes which can slide upward and downward. This type of window is efficient in terms of functionality and energy.
Benefits: It is easy to clean. These windows are energy efficient and can be used with window AC. It is available in different variety of sizes, styles and colors.
Disadvantage: It is expensive. They are not airtight and they need regular maintenance.
There are also bay or bow windows, slider windows, etc. Select window hardware and design as per your need.